with Greece through a virtual wine tasting
Welcome to Cinque wine bar!
I'm Grigoris and i'm Evangelia, happy to meet you!"
These are the words that our guests every night are hearing when they pass through our door.
Can we help you with any of the following?
Then this is your opportunity to be entertained and educated by our wine experts from home. Join us for an educational, virtual wine tasting from your own living room!
Since 2016 on TripAdvisor, Cinque Wine Bar has been the #1 ranked restaurant destination in in Athens. And we want to share our love and knowledge of wine and pairings with you!
With our live and interactive experience, you'll have the opportunity to have any questions answered that you might have.
Our goal is to recreate our tasting experience that we do here in Athens every day. So, spend an afternoon entertaining your inner circle of wine loving friends.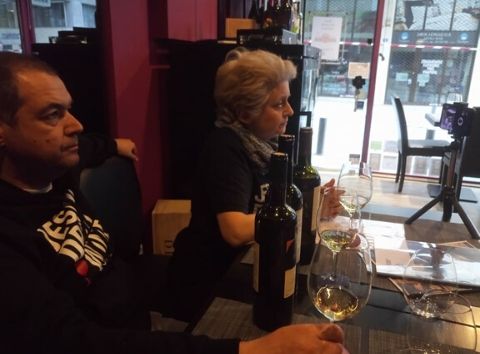 READ ABOUT OUR UPCOMING VIRTUAL WINE TASTING EVENT