DOMAIN MEGA SPILEO GRAND CAVE
Type: Red, dry
Category: Protected Geographical Indication (PGI) Achaia
Variety: 60% Mavrodafne, 40% Mavro Kalavritino
Producer: Cavino
Region: Aigio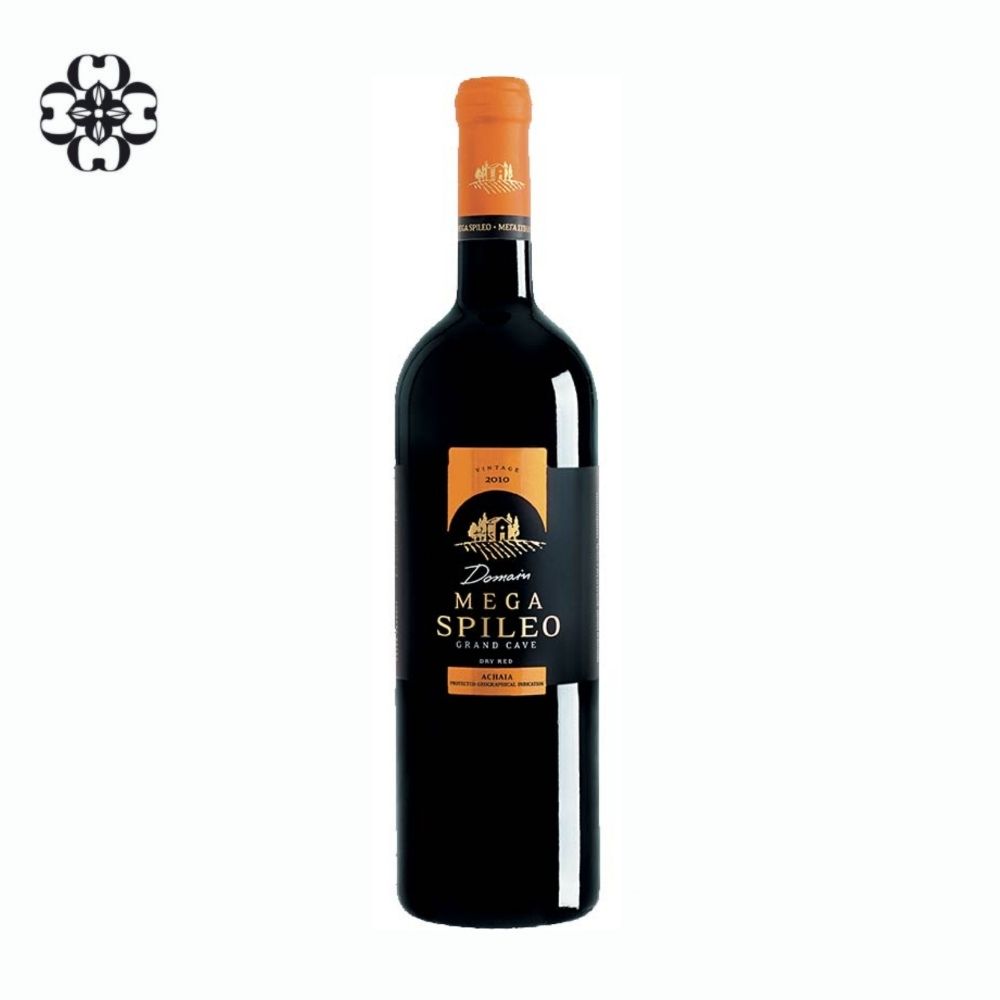 Cellar: The grapes after being destemmed were firstly cold soaked and then whole berry fermented to dry. The wine was then racked into French oak barrels for about 20 months. The bottled wine ages for another 20 months becoming well-balanced and available for consumption. To keep all the richness of color and taste the wine is not processed by intensive filtration or cold.
Tasting Notes: Deep red color with lively red tints. Complex aromatics of laurel, white pepper, gooseberry marmalade, leather and sweetish wooden background (vanilla, chocolate). Balanced finesse taste with soft tannins. Superb powerful structure supported by great equilibrium of alcohol and acidity. Long and pleasant finish.
About 150 years ago, German-born Gustav Clauss settled outside the city of Patras where he vinified the first sweet Mavrodaphne. Little could he have known at the time that the wine he had crafted would become one of the most identifiable products of the Greek vineyard. Nor could he have known that, today, apart from yielding some highly acclaimed sweet wines such as "Mavrodaphne of Patras" and "Mavrodaphne of Cephalonia," the Mavrodaphne variety would also yield some equally touted and remarkable dry wines.
Cavino was founded in 1958 in Aigio by Konstantinos Anastasiou and Ioannis Douskas. It was originally a winery, but it very soon became a distillery too. Aigio, the city where the vision of creating a modern winery – distillery was conceived, is located in a unique landscape of vineyards. The slopes of Aigialia combine with the mountains and the sea in a unique way to form a special microclimate. Cavino primarily uses indigenous grape varieties such as Roditis, Lagorthi, Sideritis, Agiorgitiko, Mavro Kalavrytino and, of course, the famous Mavrodaphne. However, it also successfully grows international varieties such as Sauvignon blanc, Chardonnay, Riesling, Merlot, Syrah and Cabernet Sauvignon.
Enjoy it from home!
Order now from Cinque's e-shop and receive by UPS worldwide
STAY CONNECTED WITH CINQUE